Howdy, Stranger!
It looks like you're new here. If you want to get involved, click one of these buttons!
In this Discussion
CURRENT GLOBAL VISITORS (CLICK GLOBE)
D-FOX: PLEASE CONTACT US IMMEDIATELY
If you can read this message, please contact us immediately at the following email address:
thecomingcrisis@gmail.com
We'd like to communicate.
WORLDWIDE LIVE QUAKE & VOLCANO WATCH


The Most Popular Threads This Week
NEW TO THE FORUMS?
Take a moment to swing by our
"Help Centre" thread
to learn the ins and outs, and to familiarize yourself with our Forum Rules prior to posting. To close this message, simply click on the 'x'.
Satanists plan statue to stand alongside Ten Commandments in Oklahoma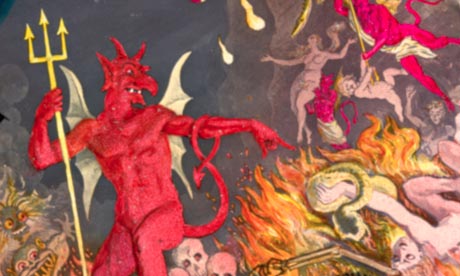 In their zeal to tout their faith in the public square, conservatives in Oklahoma may have unwittingly opened the door to a wide range of religious groups, including Satanists who are seeking to put their own statue next to a Ten Commandments monument outside the statehouse.
The Republican-controlled legislature in the state known as the buckle of the Bible Belt authorised the privately funded Ten Commandments monument in 2009. It was placed on the Capitol grounds last year despite criticism from legal experts, who questioned its constitutionality. The Oklahoma chapter of the American Civil Liberties Union has filed a lawsuit seeking its removal.
But the New York-based Satanic Temple saw an opportunity. It notified the state's Capitol Preservation Commission that it wants to donate a monument and plans to submit one of several possible designs this month, said Lucien Greaves, a spokesman for the temple.
"We believe that all monuments should be in good taste and consistent with community standards," Greaves wrote in letter to state officials. "Our proposed monument, as an homage to the historic/literary Satan, will certainly abide by these guidelines."
Greaves said one potential design involves a pentagram, a satanic symbol, while another is meant to be an interactive display for children. He said he expects the monument, if approved by Oklahoma officials, would cost about $20,000.
http://www.theguardian.com/world/2013/dec/08/satan-ten-commandments-oklahoma-city
----------
"All men naturally love freedom and hate servitude." - Gaius Julius Caesar